FlashFace - a must have app for police officers and detectives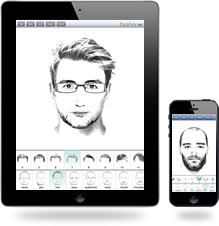 FlashFace is a brandnew app for sketching human faces. Be a detective and draw the faces of your most wanted persons with the FlashFace app!
Get FlashFace Free
Get FlashFace Full for $3,99
Get FlashFace Woman for $3,99
Features
Create face sketches on iPad, iPhone or iPod touch in just minutes. There are ten types of facial components at your disposal.
Save created faces so you can open and edit them later.
Export your sketches to the photo album and share them everywhere you want.
Versions
There are three app versions: FlashFace Free, FlashFace Full and FlashFace Woman.
We recommend you to try out the free version first. If you'll like it, you can purchase full or woman version with more face parts and make your sketches more varied. Compare the versions right here:
Create face sketches
Number of facial parts
Save faces
Load/Edit saved faces
Export faces to photo album
No watermark on exported faces
Price
✓
5 for each type (male)
max. 5
✓
✓
-
Free
✓
> 800 (male)
unlimited
✓
✓
✓
$3,99
✓
> 900 (female)
unlimited
✓
✓
✓
$3,99
Contact
Do you have questions about FlashFace?
Do you want to submit a bug report or feature request?
Then feel free to write us a message!